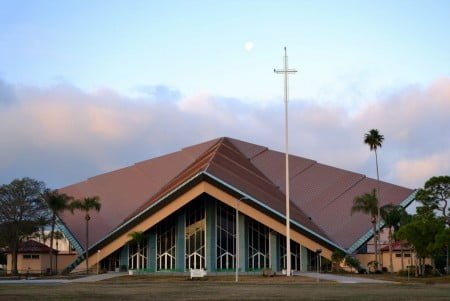 LOCATION: 227 70th St S, St. Petersburg, FL 33707, USA
ARCHITECT: William B. Harvard Sr., AIA
BUILT: Late 1960s

SIZE: -
ORIGINAL FUNCTION: Church 
PHOTO CREDITS: Floridamemory.com / Pasadenacommunitychurch.org
ABOUT THE PROJECT:
Built in the late 1960s, Pasadena Community Church's is a multifaceted and striking sanctuary located in the Pasadena on the Gulf neighborhood of St. Petersburg. The room's unusual shape offers multiple reflective surfaces at assorted angles, plenty of concrete and glass, and a ceiling that peaks at about 75 feet above the floor. A recent renovation included reducing the seating from approximately 1,100 to about 800, updating the wooden flooring, and more, further altering the acoustics. Most of the seating area is in an expanded fan shape. (source)
The original Pasadena Church was built in 1925 on two lots donated by a local businessman. The first service was held on March 25, 1925. The first sanctuary consisted of the entire center section of the present Hamilton Auditorium, which was not fully complete when the first service was held. The structure combines glass and tile to achieve an environment of warmth and strength. The plate-girder framework touches the ground at only four points, where it is supported by pilings. This leaves the sanctuary, which can seat over 2,500 persons, completely free of columns.
"The architectural concept at Pasadena was to enclose a large existing palm garden sanctuary, and to this end all effort was made to prepare a garden-like worship center. We tried to maintain a close relation with the natural surroundings through the glass walls, extending to the ceilings. The glass is protected by the 16-foot overhang of the roof gables." William B. Harvard, Sr., AIA Tampa Bay Times, April 1961.
ABOUT THE ARCHITECT: 
William Bloxham Harvard, Sr. (October 6, 1911–December 11, 1995), William Harvard was born in Waldo, Florida. He was a graduate of Sewanee Military Academy and he attended the University of Cincinnati. He received a fine arts degree from the University of South Florida.
He was said to have broken "the crust of tradition…for all local designers." Harvard's buildings were among the first Mid-Century Modern designs to be constructed in a city that had previously been dominated by the Mediterranean Revival and vernacular styles. Exhibiting deep overhangs, acute angles, and eye-catching contrasts in massing, the form of Harvard's buildings was inspired by a desire to shelter inhabitants from the harsh Florida sun while maximizing views and interaction between interior and exterior spaces. Click here to learn more about William B. Harvard, Sr., AIA
MORE PHOTOS: