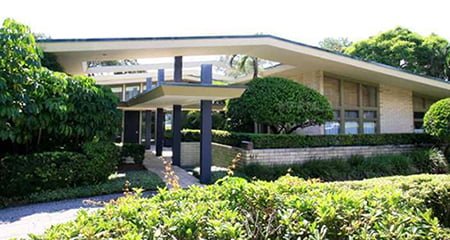 LOCATION: 411 Cordova Blvd NE, St. Petersburg, FL 33704
ARCHITECT:  William B. Harvard, Sr., AIA
BUILT:  1956
SIZE: 5,780 SF
ORIGINAL FUNCTION: Residence
PHOTO CREDITS: Realtor.com
ABOUT THE PROJECT:
Designed for clients John and Betty Knowlton and their family, William Harvard Sr. designed the home in 1956 with his signature mid-century modern style.  The design connects the interior of the house to the outdoors throughout.  It is one level situated on a premier 1.2 acre waterfront lot on Snell Harbor.   The lot is a park-like setting with abundant green space and water including a 60 ft lagoon shaped pool and garden walkways.  It was built with unique steel framing, floor to ceiling windows and doors, terrazzo floors, cypress woodwork and coral pavers.  Designed for the Florida climate, the house has high ceilings and deep eaves.  A dramatic entry courtyard, and an indoor garden room that looks out the signature angled roof lines are another timeless design element. 
ABOUT THE ARCHITECT:
William Bloxham Harvard, Sr. (October 6, 1911–December 11, 1995), William Harvard was born in Waldo, Florida. He was a graduate of Sewanee Military Academy and he attended the University of Cincinnati. He received a fine arts degree from the University of South Florida.
He was said to have broken "the crust of tradition…for all local designers." Harvard's buildings were among the first Mid-Century Modern designs to be constructed in a city that had previously been dominated by the Mediterranean Revival and vernacular styles. Exhibiting deep overhangs, acute angles, and eye-catching contrasts in massing, the form of Harvard's buildings was inspired by a desire to shelter inhabitants from the harsh Florida sun while maximizing views and interaction between interior and exterior spaces.
During this apprenticeship, with L. Murray Dixon in Miami Beach, Harvard was exposed to the work and ideas of Walter Gropius and his Bauhaus School of architecture, an influence that would remain visible in his later designs.
Harvard's private work was put on hold between 1941 and 1946, as he served as a major in the Corps of Engineers during World War II. When he reestablished his practice in 1946, Harvard was joined by recent University of Florida graduate John B. Dodd. Harvard's work during the late 1940s and 1950s increasingly embraced modernism, both in style and in form. His work also became more distinctive as the 1950s progressed, increasingly breaking ties with classical building forms and beginning to demonstrate a more sculptural approach to massing. His 1954 Williams Park Band Shell design is one award-winning example.
Having established himself as the "old man of the young architects" by the early 1960s, Harvard's firm was selected to construct a new St. Petersburg Municipal Pier in 1967. Overall, William B. Harvard, Sr.'s work can be categorized as Mid-Century Modern, though it was sometimes described as "Tropical Modernism." Like many adherents to Mid-Century Modernism, Harvard stated that he designed buildings by identifying the challenges and needs associated with the project, finding solutions, and letting the design of the building take shape based on the way it would be used. Harvard took into consideration the way that his buildings would be approached, the time of day and year that they would be used, and, often, the way that they would be required to expand in coming years. Further, the dominant visual elements of Harvard's buildings are often responses to the local climate: boxed and sheltered windows, deep overhangs, blind or heavily shaded east and west elevations, and, in residential designs or buildings built before the ubiquity of air conditioning, maximization of ventilation.
MORE PHOTOS: