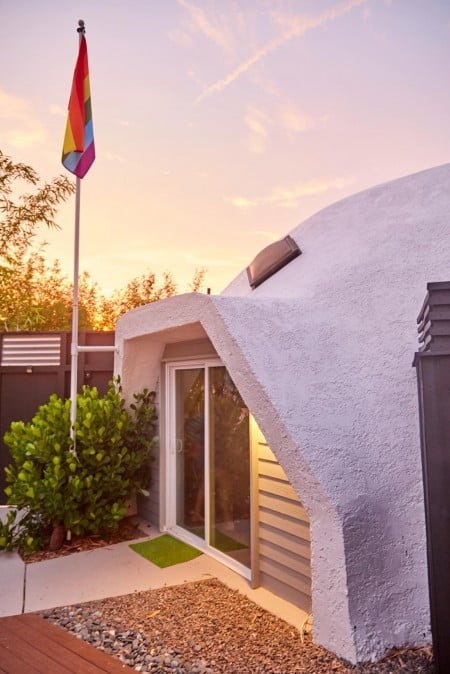 LOCATION: 3900 41st St S, St. Petersburg, FL 33711

ARCHITECT: Unknown
BUILT: 1982

SIZE: 2,250 SF
ORIGINAL FUNCTION: Residential 
PHOTO CREDITS: Owner, Frazier Ferrara
ABOUT THE PROJECT:
This Post Modern home has been included on the tour due to its unique shape. It shares some of the features typical of Mid-Century Modern design, such as clean lines with few elements of decoration and an open floor plan.  It is integrated with nature, as it has plenty of outdoor living space and multiple options for getting to those spaces from the inside. A sliding glass wall opens to the outdoors The open loft space looks down to the open plan below.
This home in the Broadwater neighborhood is a rare concrete-poured "dome." It is a 2019 "Historic Preservation Award Winner" from Preserve the Burg. It received the Award of Honor Stewardship of the Recent Past."
The house was originally started in 1979 by a Palm Beach developer as the model home for a new housing development. The project was abandoned according to the present owner who is a Mid-Century Modern designer and dealer. 
It consists of two dome structures sitting on a half-acre lot. Built in 1982, it has three bedrooms and 3 bathrooms. It features an open floor plan with 25 ft high ceilings.
On the day of the tour, the owner will be hosting a yard sale for those who would like to pick up any pieces to add to their own collections.  Bring your cash!
MORE PHOTOS: